Venue – Brisbane Convention & Exhibition Centre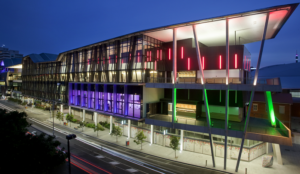 The Digestive Physiology of Pigs 2018 will be held at the Brisbane Convention & Exhibition Centre (BCEC). BCEC is officially ranked among the top three convention centres world-wide by the International Association of Conference Centres.
Located in the riverside South Bank precinct, the heart of Brisbane's cultural and entertainment activities, BCEC accommodates events for 8 or 8,000 and all serviced to the same high standards of excellence.
With all its facilities under one roof, BCEC offers a fully integrated range of in-house services. From its award winning catering, world class communications technology including Australia's first dedicated Speakers' Presentation Centre, and its own in-house Graphics and Signage Department, BCEC has it all.
Brisbane Convention & Exhibition Centre
Corner of Merivale and Glenelg Street
Southbank Qld 4101
T: +61 7 3308 3000
F: +61 7 3308 3500
W: www.bcec.com.au
How to get to BCEC
The Brisbane Convention and Exhibition Centre is conveniently located at South Bank, a 10 minute walk from the Brisbane CBD. It is accessible by bus, rail and ferry.
Bus Services – South Bank is serviced by two bus stations: The Cultural Centre Station on Melbourne Street and the South Bank Busway Station corner of Colchester and Tribune Streets, South Bank.
CityCats – A popular and speedy way to travel the river. The CityCat terminal is located outside the riverside restaurants on the riverside promenade. CityCats operate daily from 5.30am to 10.30pm.
Taxi – Taxi ranks are located outside the main entrance to the Convention Centre, at Mantra South Bank in Grey Street and there is a taxi drop off located at the Grey Street main entrance.
Uber – Uber has recently been legalised in Queensland and is another transport option in Brisbane. You can download the app and use it to request a driver to your location.
Trains – There are two train stations within a five minute walk of the Centre. South Bank Station accessed from Tribune Street and South Brisbane Railway Station adjacent to the Convention Centre in Grey Street.