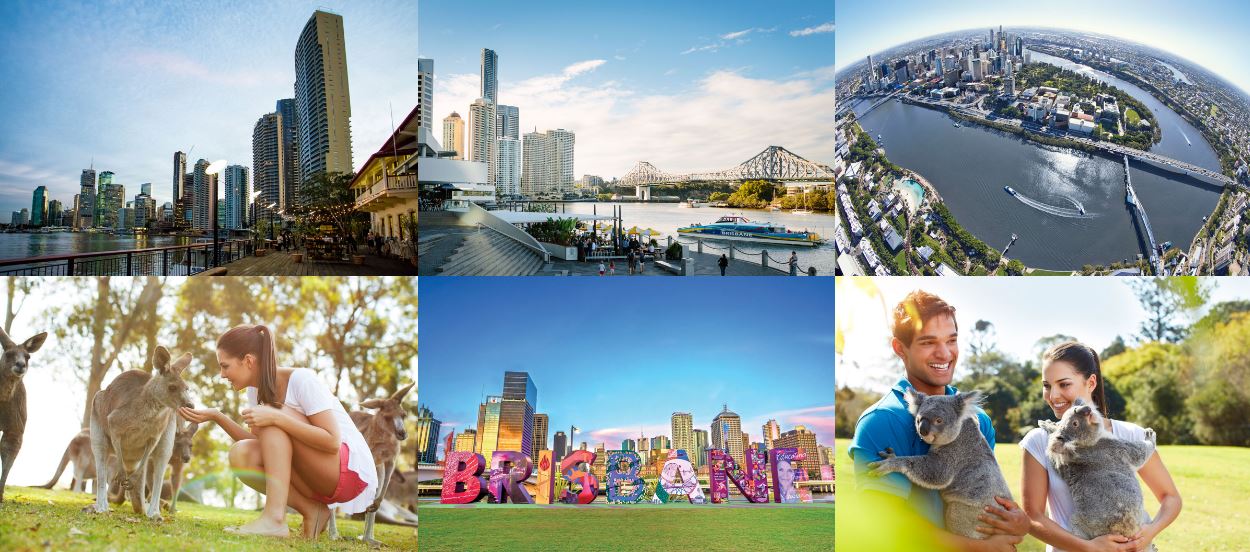 Invitation letters
You do not require a letter of invitation to come into Australia. To assist in obtaining a travel visa, it is essential that you complete the online registration form and finalise payment in a timely manner. An official tax invoice and confirmation email will be issued to you which you will be able to submit with your visa application. In the event that your visa application is unsuccessful, a refund, less an administrative charge will be provided. You should allow at least 15 days for your visa application to be processed.
There are many visa options available to people wishing to visit and attend events being held in Australia, and the appropriate visa option will depend on the person's purpose for visiting Australia. For participants, attendees and speakers that will not be working, performing or otherwise be paid to contribute at the event:
Banking and Money
Banks: As a general guide, banks across the city are open for business Monday to Friday 9.30 a.m. to 4 p.m. Some banks in local shopping centres are also open Saturday and Sunday (with varying opening hours).
Automatic teller machines (ATMs): ATMs are located throughout the city and will recognise cards issued by most banks.
Credit cards: MasterCard, Visa, American Express, and Diners Club are accepted across the city by most outlets with an increasing number accepting China UnionPay.
Currency exchange: Licensed money change services are available at the Brisbane Airport and at numerous Bureaux de Change located throughout the city. Most banks also offer currency exchange services.
Notes: $5, $10, $20, $50 and $100
Coins: 5¢, 10¢, 20¢, 50¢, $1 and $2
Pricing: Australian prices occasionally end in a variant of 1¢ or 2¢. Where this occurs, at the cash register the price is rounded to the nearest 5¢.
Car Parking
The Brisbane Convention & Exhibition Centre provides undercover parking for 1500 vehicles, with direct lift access to the Centre's convention and exhibition facilities. Car park entrances are via Merivale St, Grey St and Melbourne St. For faster exit at our car parks and for the convenience of our patrons, the Centre has installed a new automated parking system which allows you to enter and exit the car park using your credit card. The fast pay initiative works by inserting your credit card on entry, then again on exit through the automated exit lanes. This makes exiting the car parks an easier, faster process. Please click here for current parking rates.
Climate
Brisbane has a subtropical climate with warm summers and mild winters, defined by year-round sunny days. Rainfall is more likely in the summer months (December–February) while winter (June–August) is usually dry and clear.
Electricity
Mains supply in Australia is 220/240 volts AC, 50Hz with three-pin plugs used across the country. The Australian three-pin electrical socket differs from those found in most countries, and international travellers may require an adaptor socket. Standard outlets for 100-volt small appliances can be found in most hotel rooms.
Adaptors can be bought from the Brisbane Visitor Information and Booking Centre in the Queen Street Mall and from all good travel stores, chemists, and department stores.
Emergency Services
In a life-threatening or time-critical emergency, dial Emergency Services on Triple Zero (000). The Triple Zero service is an operator-assisted service that connects callers to the most relevant emergency service organisation (police, fire brigade, or ambulance). Calls to Triple Zero are free and can be made from all telephones (landline, mobile devices, and payphones). When you dial Triple Zero services, the most important thing to remember is to stay focused, stay relevant, and stay on the line. Additionally, mobile users can dial 112 while the 106 emergency number connects to a text-based relay service for people who have a hearing or speech impairment.
Transport information – Airport transfers
Airtrain
With Airtrain's fast and reliable service, delegates can reach Brisbane City in just 20 minutes. The express service runs every 15 minutes from the international and domestic terminals during peak hours stopping at five inner-city stations. Tickets can be purchased online, at the Brisbane Airport customer service counter (domestic terminal) and at Airtrain, city, and suburban train stations. For further information visit the Airtrain website.
Con-X-ion Airport Transfers
Operating seven days a week, Con-X-ion Airport Transfers offers airport travellers a door-to-door bus shuttle service from the airport covering all major city-based accommodation. Con-X-ion services both the international and domestic terminals to meet all flights. Services should be pre-booked. Tickets can be purchased online or through the customer service counters located onsite at the international and domestic terminals. For further information visit the Con-X-ion website.
Inter-terminal transfers
Brisbane Airport offers a complimentary Airport Transfer Bus that can transfer delegates between the Domestic and International Terminals.
Vehicle hire
Various vehicle rental companies, chauffeured cars, and charter services operate in and around Brisbane. Click here to search for a Brisbane transport operator.
Getting around Brisbane
Go Card
Want to know the easiest way to get around town? Pick up a TRANSLink Go Card and travel seamlessly on all TRANSLink bus, ferry, and rail services across southeast Queensland. The perfect travel companion, Go Cards are available from Queensland Rail stations, online, over the phone, or at selected retailers. Top up the card balance like a prepaid mobile phone whenever it suits. Learn more at the Go Card website or calling 13 12 30.
Buses
Explore Brisbane's neighbourhoods through a comprehensive bus service that runs throughout the city, connecting the outer and inner suburbs to the central business district major shopping centres, entertainment and dining precincts, railway stations, and ferry terminals. Take advantage of special NightLink bus services running after midnight on Fridays and Saturdays for late-night travellers. Or get around the inner city with the free City Loop and Spring Hill Loop. Plan your trip now on TRANSLink's journey planner or call 13 12 30.
Trains
Brisbane's speedy network of electric trains has the Greater Brisbane region covered and provides direct access to the city, quirky neighbourhood precincts, and outer suburbs. The Airtrain service is completely integrated into the Queensland Rail suburban network, with regular trains running from Brisbane Airport directly to Brisbane City and the Gold Coast. Travel on a single ticket from any station in southeast Queensland to Brisbane Airport. Click here to search for a train or call 13 12 30.
Free Transport
Hail a bus for free in the inner city. The CityLoop and Spring Hill Loop bus services circle the city every 10 minutes and stop at destinations in the CBD and Spring Hill precincts between 7 a.m. and 6 p.m. weekdays. Glide between Brisbane's inner-city precincts by hopping on the free CityHopper ferry service, which travels along the river from North Quay to Sydney St, New Farm. Learn more about the bus services at the Translink website or call 13 12 30.
Ferries
Let the river be your guide. Brisbane's ferries, affectionately known as CityCats, are one of the most enjoyable ways to explore Brisbane. Glide along the river with CityCat and CityFerry services, perfect for sightseeing and accessing key city spots. Tickets can be bought on board the services, at most newsagents and selected retail outlets, or by making use of a Go Card. Hop on board the free CityHopper ferry service to get around inner-city precincts for free. More on ferries online or by phone at 13 12 30.
Taxis
Take a taxi and be there in a flash. Taxi ranks are available at the Brisbane international and domestic airports, as well as throughout the city and inner-city precincts. Jump in a taxi to be assured of a quick and efficient way of getting around. A standard taxi will cater for four passengers or less. For wheel-chair access or to transport five to 10 passengers, it's best to order a multi-passenger taxi. Black & White Cabs can be reached at 133 222, and Yellow Taxi can be reached at 13 19 24.
Bikes
Make the most of Brisbane's wonderful outdoor climate by biking around town. There are extensive bicycle paths running throughout the city, and peddle-power offers a healthy and inexpensive way of getting around. Hire a Brisbane City Council CityCycle bike at key inner city destinations and set off to explore. Join up with the CityCycle program today! Available by phone at 1300 229 253.
Goods and Services Tax
The Goods and Services Tax (GST) is a broad-based 10 per cent tax included in the shelf price of most Australian goods and services. The Tourist Refund Scheme allows international travellers to claim a GST refund (subject to certain conditions) on some goods purchased in Australia. The refund applies only to items worn or goods taken on board as hand luggage when leaving the country. More information available through the Australian Department of Immigration and Border Security.
Health and Medical Services
Australia has a high-standard healthcare system offering a mix of public and private services. Several public hospitals with accident, emergency, and outpatient services are located close to inner-city Brisbane, while private medical practitioners can be easily located through the Yellow Pages website. Some international travellers will find their country has reciprocal healthcare agreements with Australia. As a general guide, these agreements provide for any ill-health episode requiring prompt medical attention. Comprehensive travel insurance is always recommended.
Language
English is the official language of Australia but many foreign languages are used by local communities, including Arabic, Italian, Greek, Vietnamese, and Chinese dialects. Translation and interpreter services can be accessed 24 hours a day by calling 13 14 50.
Liability disclaimer
In the event of industrial disruption or other unforeseen circumstances, the conference organisers accept no responsibility for loss of monies incurred by delegates.
Name badges
The wearing of identification badges is mandatory and will be required for admission to all sessions. These will be provided at the conference registration desk upon your arrival.
Passport and Visa requirements
If you are planning to visit Australia to attend a business event such as a conference as a speaker, participant or attendee, (that is, you will not be working, performing, or being paid to contribute), you may be eligible for one of the following visas:
For further information about visa options, please visit the Department of Home Affairs' website: www.homeaffairs.gov.au/Trav
IT IS IMPORTANT THAT YOU CHECK YOUR VISA REQUIREMENTS WELL IN ADVANCE OF YOUR DEPARTURE DATE.
Population
A population of 2.1 million calls Brisbane home, with a median age of 35, and more than a quarter of Brisbane residents born overseas.
Shopping in Brisbane
With directional boutiques, home-grown designers, and big-name brands, Brisbane has earned its title as the new home of fashion. The Queen Street Mall is the heart of this shopping mecca, housing luxury retailers, flagship stores of Australian labels and hole-in-the-wall boutiques. International brands Cartier, Burberry and Forever 21, along with
Australia's Paspaley, are the most recent additions to the city's sartorial mix, with more fashion heavyweights set to open.
Luxury lovers can peruse high-end stores, including Tiffany & Co., Chanel, and Louis Vuitton at QueensPlaza. The heritage-listed Brisbane Arcade is worth a visit to marvel at its stunning timber panelling and local designers. Head to MacArthur Central for flagship stores including Apple and Ralph Lauren, The Myer Centre for Myer, or browse the shops behind Wintergarden's butterfly-studded, kaleidoscopic façade.
To continue your boutique journey, head to Fortitude Valley and Paddington, where unique shops, galleries, and boutiques dot the streets. In Fortitude Valley, James Street is the place to find local designer wear and quality home wares amidst cool bars and fine al fresco dining spots. Or venture into the creative designer hub of Bakery Lane set in an intimate space off Ann Street. More information at www.visitbrisbane.com.au.
Telephone Assistance
| Common country codes | |
| --- | --- |
| China | 0011 + 86 |
| France | 0011 + 33 |
| Germany | 0011 + 49 |
| Hong Kong | 0011 + 852 |
| Ireland | 0011 + 353 |
| Italy | 0011 + 39 |
| Japan | 0011 + 81 |
| Malaysia | 0011 + 60 |
| New Zealand | 0011 + 64 |
| Singapore | 0011 + 65 |
| South Africa | 0011 + 27 |
| Spain | 0011 + 34 |
| United Kingdom | 0011 + 44 |
| United States of America | 0011 + 1 |
Directory assistance: 1223
Emergency calls in Australia: 000
Time Zones
Brisbane operates on Australian Eastern Standard Time: GMT plus 10 hours. Daylight savings times do not apply in Queensland.
Tipping
Service with a smile is the rule of thumb in Australia and tipping is always optional. If the service is worthy of a tip, it will be appreciated.
Brisbane Visitor Information and Booking Centre
The award-winning Brisbane Visitor Information and Booking Centre is located in the heart of Brisbane's busiest shopping precinct in the Queen Street Mall (between Edward and Albert Sts). The fully accredited centre holds a travel agency licence and offers a wide range of information and tourist booking services for travellers. Open hours: Monday to Thursday 9 a.m. to 5:30 p.m.; Friday 9 a.m. to 7 p.m.; Saturday 9 a.m. to 5 p.m.; and Sunday 10 a.m. to 5 p.m. (closed Good Friday and Christmas Day). On Anzac Day (25 April) the centre is open 1 to 5 p.m., and all other public holidays the centre is open 9:30 a.m. to 4:30 p.m.
The South Bank Visitor Centre is located in the heart of South Bank on the Stanley Street Plaza. The centre offers detailed information on South Bank attractions and travel services. Open hours: Monday to Sunday 9 a.m. to 5 p.m. (closed Good Friday and Christmas Day); open from 1 to 5 p.m. on Anzac Day and from 10 a.m. on public holidays.
Brisbane Airport Ambassadors & Visitor Information
Visitor Information centres are also located at the Brisbane Airport in the arrivals hall of the international terminal and on the ground floor of the domestic terminal. Both centres offer a range of information and booking services for travellers. Open hours (international): Monday to Sunday 6 a.m. to 2 a.m. Open hours (domestic): Monday to Friday 7 a.m. to 2:45 p.m. and 8:30 a.m. to 12:15 p.m. on weekends.
For more information on where to eat, drink, shop, play, and stay in Brisbane, go to www.visitbrisbane.com.au