Venue – Brisbane Convention & Exhibition Centre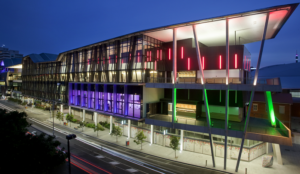 地点-布里斯班会议&展览中心。
2018年猪消化生理学将在布里斯班会展中心举行。BCEC被国际会议中心协会正式列为全球三大会议中心之一。BCEC,位于河边南岸选区,布里斯班的文化和娱乐活动的核心,它能容纳8到8000人,所有的活动以同样的高标准追求卓越。BCEC的所有设施都在一个屋檐下,提供了全方位的内部服务,从它的获奖餐饮,世界级的通信技术,包括澳大利亚第一个专用的发言人展示中心,以及自己的内部图形和标志部门,BCEC拥有一切。
布里斯班会议展览中心
梅里维尔和格伦街的拐角处
南岸昆士兰4101
T: +61 73308 3000。
F: +61 733083500。
W: www.bcec.com.au
How to get to BCEC
The Brisbane Convention and Exhibition Centre is conveniently located at South Bank, a 10 minute walk from the Brisbane CBD. It is accessible by bus, rail and ferry.
Bus Services – South Bank is serviced by two bus stations: The Cultural Centre Station on Melbourne Street and the South Bank Busway Station corner of Colchester and Tribune Streets, South Bank.
CityCats – A popular and speedy way to travel the river. The CityCat terminal is located outside the riverside restaurants on the riverside promenade. CityCats operate daily from 5.30am to 10.30pm.
Taxi – Taxi ranks are located outside the main entrance to the Convention Centre, at Mantra South Bank in Grey Street and there is a taxi drop off located at the Grey Street main entrance.
Uber – Uber has recently been legalised in Queensland and is another transport option in Brisbane. You can download the app and use it to request a driver to your location.
Trains – There are two train stations within a five minute walk of the Centre. South Bank Station accessed from Tribune Street and South Brisbane Railway Station adjacent to the Convention Centre in Grey Street.